Important Events From This day in History January 11th
Find Out What happened 11th January This Day in History on your birthday Find Out For Next 7 Days -
January
-
12th
-
13th
-
14th
-
15th
-
16th
-
17th
-
18th
11 Jan, 1928

- Ol' Man River
11th January,
1928
: The legendary Bing Crosby records one of his first hits - "Ol' Man River" - with the Paul Whiteman Orchestra. He later left the band and went on to make the most famous Christmas song recording - "White Christmas" - of all-time.
11 Jan, 2008

- Bank Of America
11th January, 2008 : As the fallout continues from the sub-prime mess and pending foreclosures in Countrywide customers, Bank Of America has announced it will buy Countrywide Financial for $4.1 billion in stock making Bank of America Corp. the nation's biggest mortgage lender and loan servicer. Thid continues the aggresive buying strategy of Bank of America after buying FleetBoston Financial and MBNA in the last 12 months.
11 Jan, 1993

- BA Dirty Tricks
British Airways apologises for an alleged "dirty tricks" campaign against Virgin Atlantic and agrees to pay damages of £500,000 to Virgin boss Richard Branson and £110,000 to his airline, plus legal costs of £3m
11 Jan, 1935

- Amelia Earhart
This was the beginning of
Amelia Earhart
's solo flight trip across the Pacific. She was the first person to ever have flown across these waters by herself. She flew from Honolulu, Hawaii to California.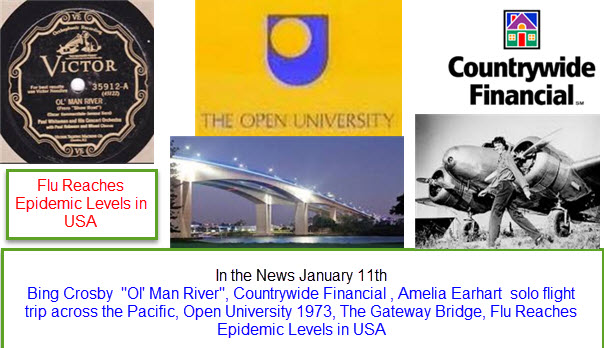 11 Jan, 1943

- China Agreement
China and the United States signed a treaty today that ended extraterritorial rights in China. A similar agreement was also signed on this day between Great Britain and China. For the United States, this meant that the U.S. no longer had power to "exercise jurisdiction" over its citizens residing in China. In return, China agreed to treat Americans in some respects like they would native Chinese-in terms of housing (residence), trade, civil rights, and overseas travel (navigation).
Similar provisions were made in the treaty that was sign by Great Britain and China as well. In both treaties signed on this day, the idea was the same-to advocate international equality.
11 Jan, 1962

- State of the Union Address
This was the date of
John F. Kennedy's
annual State of the Union Address. He had proposed several policy implementations that would help combat the "economic offensive mounted by the Soviet Union and her Communist allies" .
Part of JFK's proposal was to lower the tariffs on internationally-traded goods. He also advocated the lowered of taxes along with the increase of public works spending. A new farm program was also recommended and federal aid to public schools.
Additionally, JFK stated the intention of the West to fight for rights in Berlin, Germany. This was in reference to the fact that the Soviet was demanding that Germany be re-united under the Communist rule.
11 Jan, 1962

- B52 Bomber
The
B52
H, a new U.S. superbomber, pulled into an airbase located near Madrid, Spain. This particular bomber had just finished a 12, 519-mile flight.
11 Jan, 1962

- Avalanche in the Andes
11th January, 1962 : A major avalanche of rocks and ice from the extinct volcano of Huascaran, Peru's highest mountain in the Andes range buried the village of Ranrahirca and 8 other local villages with the loss of over 4000 estimated
11 Jan, 1964

- Skipping School
Three students were tried and convicted on this day for an incident of skipping school a few months prior to this date. They also were tried guilty of vandalism and looting. One of the boys was sentenced to the
Youth Service Board
and the other boy and girl were suspended.
11 Jan, 1964

- Smoking Bad For You
U.S. Surgeon General Luther Leonidas Terry reported that smoking may lead to major health problems including lung cancer
11 Jan, 1971

- Uruguay Urban Guerrillas
A group known as the
Tupamaro Urban Guerrillas
had assassinated Detective Jose Leandro Villalba in Montevideo, Uruguay. Villalba had been leaving a bar when he was shot by numerous 45-caliber bullets that were fired by the above-mentioned Tupamaro.
The same group that had shot the detective had also challenged the government of Uruguay into a kidnapping negotiation of a British Hostage.
The Tupamaro Urban Guerrillas mentioned above is a terrorist group. They have very extreme ideals, and are known for using extreme measures to "get their way".
11 Jan, 1973

Great Britain Open University ( OU )
The first graduates from the Open University (OU) have been awarded their degrees after two years studying from home. The Open University (OU) was set up in
1971
to allow mature students to obtain degrees while still working and studying at home ( there are currently 200,000 students on its books making it the largest University in the country )
11 Jan, 1986

Australia Gateway Bridge
11th January, 1986 : The Gateway Bridge with 6 lanes opens in Brisbane, Australia over the Brisbane River
11 Jan, 1988

- Electrical Fire
A report on this day said that two banks had shut down within two months. The incident that happened last week to close one of the banks (Chase Manhattan) was an electrical fire.
11 Jan, 1998

- Algeria Massacre
Islamic extremists attack the villages of Sidi-Hamed and Haouche Sahraoui, in Algeria massacre up to 400 of the local villagers ( official figures give 103 dead ) bombing the local mosque and cinema and then rounding up survivors and hacking them to death.
11 Jan, 2003

- Illinois Criminal Justice system
In Chicago, Illinois, Governor George Ryan had
released four prisoners who were on death row
. These prisoners were four men who were tortured by police in the 1980s, forcing these men to falsely testify against murders they did not commit.
Incidentally, none of these men knew each other. Moreover, quotes of Governor George Ryan recorded in a Kansas newspaper indicated the governor's view of the Illinois Criminal Justice system.
Governor Ryan pointed out flaws, such as the fact that the system was inaccurate and unable to separate the innocent from the guilty. He also was reported to saying that this criminal justice system was "racist". George Ryan was only three days away from the end of his term when he had made this decision. His plan for the time he was in office was to improve the Chicago, Illinois capital punishment system.
Alaska
's sale of goods to foreign countries had increased by $106 million dollars. Furthermore seafood sale exports rose five percent from the previous nine months.
11 Jan, 2007

- Hurricane Katrina Victims Insurance Claims
11th January, 2007 : Nearly 18 months after Hurricane Katrina a "Mississippi federal court judge" has ruled that Insurance companies are liable for payment to claims by victims of the hurricane. Up till now Insurance Companies including State Farm have refused to pay out stating ( Claims arising from water damage would not be paid ) and most of the damage to homes was caused due to Katrina's storm surge which they claimed should be considered water damage. This is the first time that the courts have sided with those affected, all earlier cases have supported the Insurance Companies .
11 Jan, 2009

- Europe Gas Supplies Dispute
11 days after the dispute between Russia and the Ukraine started, Russian, Ukrainian and European Union officials have signed a deal enabling a resumption of Russian gas deliveries to European countries through Ukraine. For hundreds of thousands of Europeans it can not come fast enough with freezing temperatures and no form of heating for the last 5 days.
11 Jan, 2010

- Calls For Investigation On Swine Flu
The Parliamentary Assembly of the Council of Europe (P.A.C.E.) has said it will be launching an inquiry into the influence made by the pharmaceutical companies on the global swine flu campaign. They will be focusing on how far the pharmaceutical industry's influence on W.H.O. went, and P.A.C.E.'s Health Committee is asking for a better transparency of the 'Golden Triangle' between W.H.O., the pharmaceutical industry and academic scientists.
11 Jan, 2011

- Stealth Fighter Tested in China
11th January, China tests its first stealth fighter jet, the J-20. The flight lasted fifteen minutes and China suggest the stealth fighter could be fully operational as early as 2017. The United States is currently the only country in the world with stealth planes that are fully operational.     
11 Jan, 2012

- Netherlands to Ban Drug Khat
The government of the Netherlands has announced that will ban the use of the drug khat, a mild narcotic often used by the Somali community. The ban came after concerns emerged that the drug caused a public threat and had the potential to induce psychosis or schizophrenia.
11 Jan, 2013

- Flu Reaches Epidemic Levels in USA
11th January, 2013 : Health officials claim that the influenza has crossed over the threshold into epidemic status in the United States. The CDC stated that the percentage of deaths caused by the flu went up to 7.3% which was just enough to reach epidemic levels.
11 Jan, 2014

- Protesters Attacked in Bangkok
11th January, 2014 : At least seven people were injured after an unidentified gunman opened fire on a crowd of anti-government protesters in Bangkok.
Born This Day In History 11th January
Celebrating Birthday's Today
Carroll Shelby
Born:
11th January
1923
Leesburg, Texas, United States
Known For :
Carroll Shelby is best known for the cars that bare his name the Ford Mustang based Shelby GT350 and the Shelby GT500. Shelby was a racing driver competing in Formula One World Championship races, he also won the 1959 24 Hours of Le Mans driving an Aston Martin. Following his retirement from racing he set up Shelby American vehicles to manufacture unique cars including the Shelby Cobra which was based on the British Sports Car from AC Cars powered by a Ford V-8 engine. His next step was to create the GT350 and GT500 which were based on the Ford Mustang and are amongst some of the most collectable cars from the era.
Arthur Scargill
Born:
11th January
1938
Worsbrough Dale, Yorkshire, England
Known For :
Arthur Scargill is best known as the President of the National Union of Mineworkers (NUM) from 1981 to 2000, he is best remembered as the vocal leader of the union during the 1984-85 miners' strike. The strike was an important part of British history because it bought a large powerful trade union into direct conflict with the very conservative right wing Maggy Thatcher the leader of the conservative party and British Prime Minister. Unlike many earlier strikes the miners strike in 1984 - 1985 was not about wages as much as about the future of the mining industry, the Conservative government wanted to close down pits which were losing money and sell off the remaining industry to private enterprise which would mean the loss of tens of thousands of jobs in the industry. The strike and final result where the miners lost was an integral part of the changes in Britain over the next 10 years where many more previously Nationalized industries were sold off to private enterprise and the strength of the British Trade Union movement was diminished significantly.