What Happened in 1951 Important News and Events, Key Technology and Popular Culture
News Stories include 22nd Amendment is ratified, New Jersey Turnpike, First Color TV Pictures broadcast from Empire State Building, Festival of Britain opens, Disc Jockey Alan Freed coins the term Rock N Roll,
Jump To
Fashion
--
World Leaders
--
1951 Calendar
--
Technology
--
Cost Of Living
--
Popular Culture
--
Toys
--
News Events
---
---
---

Yearly Inflation Rate USA 7.88%
Yearly Inflation Rate UK 9.5%
Average Cost of new house - $9.000.00 -
Average wages per year - $3,510.00 -
Cost of a gallon of Gas - 19 cents -
Average Cost of a new car - $1,500.00 -
Loaf of Bread - 16 cents -
LB of Hamburger Meat - 50 cents -
Bacon per LB - 52 cents -
Eggs per dozen - 24 cents -
Water Jacket Heater ( Asbestos ) - $4.59 -
Baby Diapers ( Cotton ) - From $2.79 -
Children's Tricycle - From $14.00 -
Below are some Prices for UK guides in Pounds Sterling -
Average House Price - 2,115 -


---
1951
1951 Unemployment dipped to 3.3% in the US and new roads were built to take the ever increasing numbers of cars including the New Jersey Turnpike. Children were given more than any other time in previous history with guitar lessons and sets of Encyclopedias to improve their minds . The average family income was $3,700 per year and people had money to spend so cars became more luxurious and had more powerful engines with options for two tone paint, during this time things like turn signals were still an extra and most drivers still used hand signals to tell other drivers which way they were turning. Television continued to grow with popular programmes like "I Love Lucy" and the first tests for Color Television Pictures were broadcast from Empire State Building on
June 25th
. Europe continued to export many cars to the US including Volkswagen's and Austin's.
---
United States -- Nevada Nuclear Test
More Information for the Nevada Nuclear Test Site
During January the United States government began nuclear bomb testing at a test site in Nevada. After the initial development of the atomic bomb during the mid-
1940's
the U.S. had moved its test sites off of the country's mainland and began using islands in the Pacific. Due to logistical and safety concerns the U.S. Government decided to move the testing back to the mainland and chose a large portion of mountainous and desert land in Nevada, located about 65 miles away from Las Vegas, as their site. The first series of tests to be held at this new site was named Operation Ranger. Initially, many tests were atmospheric tests but because of the adverse health effects that were observed all of the tests were moved underground by 1962. A total of 928 nuclear tests were conducted at the Nevada Test Site between 1951 and 1992.
---
---
U.S. - Operation Greenhouse
The first thermonuclear weapon test takes place at the Enewetak Atoll during Operation Greenhouse.
More Information for Operation Greenhouse
The United States performs the first thermonuclear weapon test during May as a part of "Operation Greenhouse." The test was conducted at the Enewetak Atoll and the blast, named "George," was the first successful small-scale demonstration of a non-weaponized hydrogen bomb. The test confirmed to scientists working on the project that the foundation of their design worked and it would be possible to create a large-scale hydrogen bomb. The U.S. would go on to to test the first full-scale thermonuclear hydrogen bomb during
November
of 1952 with "Ivy Mike" in "Operation Ivy."
---
United States -- Direct Dial Coastal Call
The first direct-dial coast to coast telephone call was made during November . The call took place between the Mayor of Englewood, New Jersey, M. Leslie Denning, and the Mayor of Alameda, California, Frank Osborne. It took about 18 seconds to connect the call and it was placed using AT&T's direct distance dialing system which did not use an operator to connect the call. This new method utilized a ten digit phone number which included the three-digit area code system that had been implemented in the late 1940s.
---
United States -- "I Love Lucy"
The popular television show "I Love Lucy" premieres on CBS.
More Information and Timeline for I Love Lucy.
The classic television show "I Love Lucy" debuted on the CBS network on October 15th . The show starred comedienne Lucille Ball as the titular Lucy Ricardo, Cuban entertainer Desi Arnaz as Lucy's husband Ricky, with Vivian Vance and William Frawley as their goofy landlords Fred and Ethel Mertz, and it revolved around Lucy's comical antics. Arnaz and Ball were a real-life husband and wife and the show was based off a popular radio series that Ball had previously starred in. "I Love Lucy" was one of the first scripted television shows to be filmed using three different cameras and it was unusual that it was filmed in Hollywood using a live audience rather than in New York using a laugh track. The show was a huge success and was nominated for and won many Emmy awards while it aired. It ended in May of
1957
but remained popular in reruns and it is still regularly aired on cable TV.
---
The popular film "An American in Paris" debuts this year.
More Information for An American in Paris
The classic film "An American in Paris" premiered in London during August . The musical film featured music from George and Ira Gershwin and the dance numbers were choreographed by the film's star Gene Kelly. "An American in Paris" also starred Leslie Caron, Nina Foch, Oscar Lavant, and Georges Guetary and was directed by famed film maker Vincente Minnelli. The story focused on a complicated love triangle and was written by Alan Jay Lerner. The film won a total of six Academy Awards including "Best Picture."
---
United States -- The Day the Earth Stood Still Movie
The popular film "The Day the Earth Stood Still" debuts.
More Information for "The Day the Earth Stood Still"
The classic science-fiction film "The Day the Earth Stood Still" debuted during September in New York. The film told the story of an alien and his robot who traveled to Earth to deliver an important message to humankind. "The Day the Earth Stood Still" was praised by critics and considered to be one of the best movies to be released that year. It was directed by Robert Wise who is also known for directing popular films like 1961's "West Side Story" and 1965's "The Sound of Music." In 1995 the film was chosen for preservation by the Library of Congress.
---
---
United States - Development of Birth Control Pill
1. Margaret Sanger opens the first birth control clinic in the United States in
1916
and Sanger was arrested for distributing contraceptives in less than two weeks after its opening.
2. During the
1930s
, breakthroughs in steroid and hormone research lead to the discovery that high doses of certain steroid hormones can stop ovulation.
3. Russell Marker, an organic chemistry professor at Penn State, developed a process using plant steroids to create progesterone in
1939
.
4. Marker co-founded the Syntex company in Mexico during
1944
but leaves the company in
1945
and is replaced by George Rosenkranz.
5. Margaret Sanger meets Gregory Pincus, a hormone researcher, in 1951 and helps him secure a grant from Planned Parenthood to research hormonal contraceptives.
6. On
October 15
, 1951, Dr. Carl Djerassi and student Luis Miramontes, under the direction of George Rosenkranz, successfully synthesize progestin norethisterone while working at Syntex. The hormone was a key ingredient in the creation of the birth control pill and Miramontes was credited with completing the final step in the synthesizing process.
7. Frank Colton first synthesizes noretynodrel in
1952
at G.D. Searle and Company, another key ingredient in the creation of the pill.
8. In
1953
Gregory Pincus receives a dramatic increase in funding for his research from Katharine McCormick. He begins human trials of a birth control pill in
1956
in Puerto Rico.
9. The FDA approves "Envoid" in
1957
for certain treatments and in
1960
the FDA approves it for use as an oral contraceptive pill.
10. In
1965
, the Supreme Court rules in Griswold v. Connecticut, allowing married couples in all states access to birth control.
11. In
1972
, the Supreme Court rules in Eisenstadt v. Baird, allowing unmarried people access to birth control.
---
U.S. - Disney's Alice in Wonderland
The Disney film adaptation of Alice in Wonderland debuts in theaters.
More Information for Alice in Wonderland Film
Walt Disney's 13th animated feature film "Alice in Wonderland" is released during July . Disney had been trying to create the film adaptation of the classic Lewis Carroll novel since the 1930s but was unhappy with it until after the end of World War II. When the film was finally finished and released in 1951 it was considered a flop and received negative reviews from film critics. "Alice in Wonderland" soon became a cult favorite film and was re-released in the 1970s to a more favorable critical response.
---
---
The Treaty of Paris establishes the European Coal and Steel Community.
More Information for the ECSC
Six European nations sign the Treaty of Paris establishing the European Coal and Steel Community during April . The treaty was signed by Italy, France, Belgium, West Germany, Luxembourg, and the Netherlands. The six countries joined together in an economic union in what was a precursor to the creation of the European Union. The treaty came into effect during July of the next 1952 and it remained in effect until 2002.
---
U.S. - UNIVAC Commercial Computer
The first commercial computer, UNIVAC, is put into use at the U.S. Census Bureau.
More Information for UNIVAC
The first commercial computer to be created in the U.S., the UNIVAC (Universal Automatic Computer), was dedicated for use at the U.S. Census Bureau during June . The computer was designed by Presper Eckert and John Mauchly and was created by the Remington Rand company. Eckert and Mauchly had also created the first general-purpose computer (ENIAC) in 1946. The data-processing machine had 5,000 vacuum tubes, weighed about 16,000 pounds, and measured 14.5 by 7.5 by 9 feet in size. UNIVAC was an improved version of ENIAC and the first successful commercial computer created for civilian use. It could do about 1,000 calculations in a second, improving the efficiency of the Census Bureau.
---
United States -- Experimental Breeder Reactor-I
During December , the Experimental Breeder Reactor-I (EBR-I) began operating in Idaho. The EBR-I was the world's first electricity producing nuclear power plant. It produced enough electricity to power the building and was used by scientists to study experiments on "breeding" nuclear fuel in a fission reactor. The concept of the reactor was for it to produce as much or more fuel than it used. EBR-I remained functional until 1964 when it was decommissioned. It was named as a historical landmark in 1965 and was opened for the public in 1976.
---
---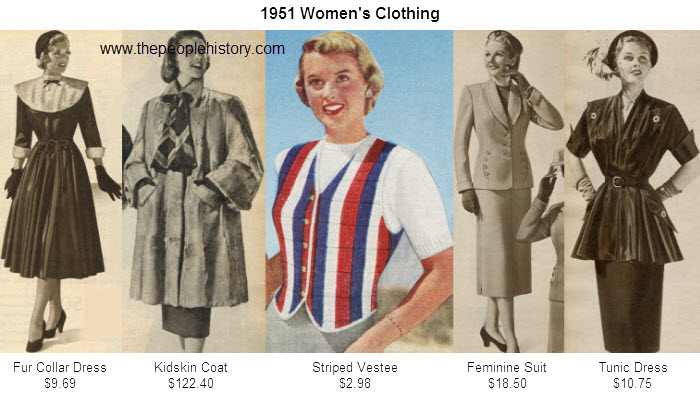 Calendar For The Year 1951
Part of our Collection of Toys From this Year
Part of our 1950s Toys Selection of 250 Fifties Toys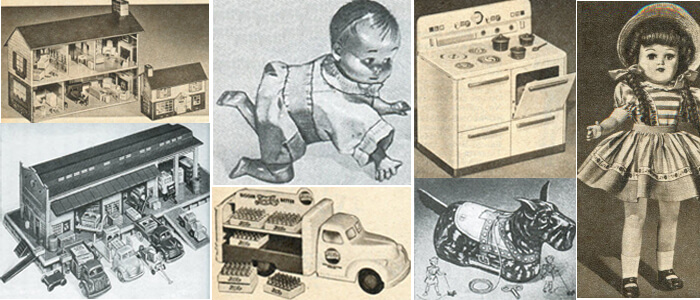 ---
More News and Key Events
---
Libya Gains Independence from Italy
---
22nd Amendment is ratified which limits US presidential term of office to 8 yrs ( 2 terms ) Available as a downloadable image on our Public Domain Images Page
---
King Abdullah of Jordan assassinated on July20th in Jerusalem
---
Iran - Nationalizes Oil Fields
Iran Nationalizes it's Oil Fields
---
U.S. --General Douglas MacArthur
President Harry S Truman fires General Douglas MacArthur as commander of United Nations Forces
---
United Nations forces recapture Seoul during the Korean War
---
UK -- Festival of Britain
The Festival of Britain opens at the Royal Festival Hall
---
UK -- Fawley Oil Refinery
Largest oil refinery in Europe opens at Fawley in Southampton, UK
---
The Great Flood of 1951 in Midwest United States
---
---
Popular Culture
The term Rock N Roll is coined by Cleveland Disc Jockey Alan Freed
The Dennis the Menace comic strip appears in newspapers across the U.S. for the first time.
Popular Films
An American in Paris
The African Queen
A Streetcar Named Desire
The Day the Earth Stood Still
Popular Music
Perry Como
Mario Lanza
Nat King Cole
Tony Bennett
Popular TV
I Love Lucy
What's My Line? debuts on BBC Television.
Check out our Television Programmes From The 1950s whenever possible we have included a trailer to jog your memory. Series trailers and more information are found on the decade they started.
---
Born This Year
Sting October 2nd
Bob Geldof October 5th
Phil Collins
January 30th
Jane Seymour
February
15th
---
First oral contraceptive ( the Pill )invented by Luis E. Miramontes
Direct dial coast-to-coast telephone service begins in the United States.
First Color Television Pictures broadcast from Empire State Building
Inventions Invented by Inventors and Country ( or attributed to First Use )
Breeder Reactor
USA converted Uranium to Plutonium
---

Brazil - President -- Gaspar Dutra - Till 31 January
Brazil - President -- Getulio Vargas - From 31 January
Canada - Prime Minister -- Louis St. Laurent -
China - Chairman of the People's Republic of China -- Mao Zedong -
France - President -- Vincent Auriol -
Germany - Chancellor -- Konrad Adenauer -
India - Prime Minister -- Jawahar Lal Nehru -
Italy - Prime Minister -- Alcide De Gasperi -
Japan - Prime Minister -- Shigeru Yoshida -
Mexico - President -- Miguel Aleman Valdes -
Russia / Soviet Union - Chairman of the Council of People's Commissars -- Joseph Stalin -
South Africa - Prime Minister -- Daniel François Malan -
United States - President -- Harry S. Truman -
United Kingdom - Prime Minister -- Clement Attlee - Till 26 October
United Kingdom - Prime Minister -- Sir Winston Churchill - From 26 October

Political Elections

British General Election - 1951 - Winston Churchill ( Conservative ) defeats Clement Attlee ( Labour ) and Clement Davies ( Liberal ) -