Fashion Through The Decades
20's Fashions
-
50's Fashions
-
60's Fashions
-
70's Fashions
-
80's Fashions
-
Clothes and Fashions Home
Fashion and Accessories of the 1970's
The 1970s "Anything Goes Fashion" and Individual Expression
Beginning in the late 1960's and continuing into the 1970's, wearing clothes was more about individual expression than it was about fitting in. Many people during this decade primarily dressed in ways to please themselves rather than other people. However, this does not mean that people did not value high fashion because the opposite was true. The clothing and accessories worn on the runway were made into more radical designs than they had ever been in years before. Prominent trends included flared or "bell-bottom" pants, tunics, pantsets, leisure suits, and overalls. Exotic prints, polyester fabrics, checks, bright colors, embroidered details, and satin, corduroy or velvet textures were very popular too.
---
---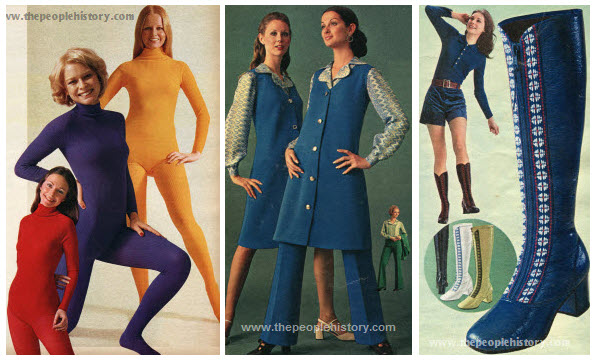 Individualism and self-expression were important for people during the 1970s, no matter how much or how little money a person made. When it came to fashion, the largest differences between the types of individualism and self-expression (that were displayed through clothes in this era) were most likely due to both class and taste. For example, "Hippie" style was popular throughout the beginning and middle of the decade and there was a marked difference between what some could call "Anything Goes" hippie clothing and "Designer" hippies. The latter would be more likely to coordinate their outfits in accordance with style trends, whereas the former would be less likely to follow trends at all and would mix pieces as they pleased.
"Power Clothes" and Other Trends in Fashion
Some of the "power clothes" worn by working women in the 1970s include lines of suits created by Karl Lagerfield, who designed under the Chloé label. Another working or casual outfit that was created during this time was the tomato red linen suit jacket worn with white silk crepe blouse and soft leather elastic-wasted pants with seams in the knees. Women could also wear blazers with pants and sweaters or they could choose from a number of professional-looking jacket and skirt sets. For the evening, many women wore simple classic timeless dresses such as a long flowing red evening dress. Find More on our 1970s Ladies Dresses Page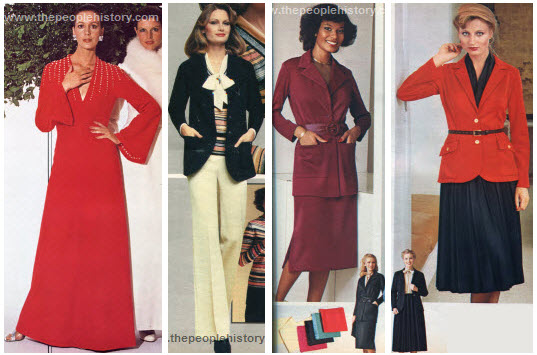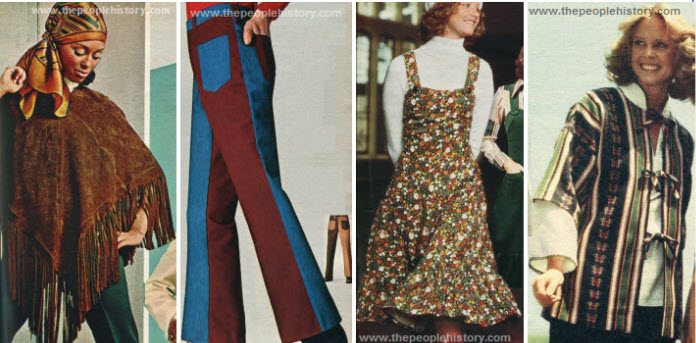 Men's fashion stayed fairly consistent throughout the decade Find examples of Seventies Men's Clothes on our dedicated 1970s Mens fashions page. Suits and dress shirts were still popular for work and formal occasions, however, lines and shapes of the suits and shirts varied from what had been acceptable in previous decades. Many suit jackets had flared collars and pants also became flared. Many other patterns such as plaid, houndstooth and checks were often featured in suit sets and brighter colors were popular as well (the calling cards of the much reviled Leisure Suit today). For casual-wear, sweaters, t-shirts and denim became the norm, and jumpsuits were popular as well. The popularized image of men's formal wear during this time was the white suit made famous by John Travolta in Saturday Night Fever. It is a full suit with a vest and black collar underneath the vest that appears in one photo to either to come from a black shirt worn under the vest, or to be a collar attached as part of the vest. Other styles that were associated with the "Disco" scene proved popular too, like silky button down shirts with fun prints and slim-cut flared slacks. Find examples of Seventies Childrens Clothes on our dedicated
1970's
kids clothes page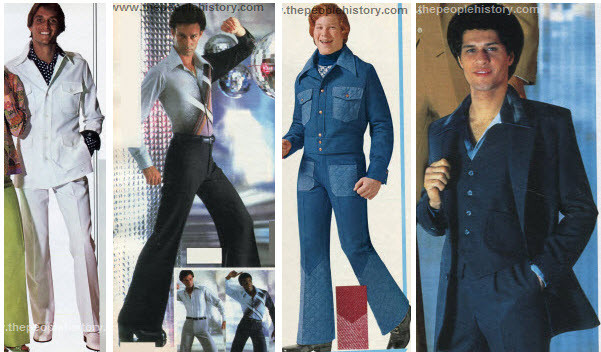 Fake Fur, His and Hers, and the Beginning of Punk Fashion
Many jackets and coats for men and women in the 70's featured fur detailing (often made of fake fur). The furs would be dyed in crazy colors or used to accent a colorfully dyed suede jacket for women. Leather and leather-look jackets were also popular and many featured a "wet-look" accomplished by vinyl. Fur trimmed coats for men were more often more toned down and featured natural brown or black tones. Other upscale outfits also featured fake fur trim or animal prints. Matching outfits for men and women were also somewhat popular during the decade as there were often His and Hers versions of loungewear and sweaters. Finally, as the decade came to an end, emerging trends coincided with the development and rising popularity of punk rock music. Punk music fashions started to leak into the mainstream in the late seventies, but were not truly popular until the early 1980s.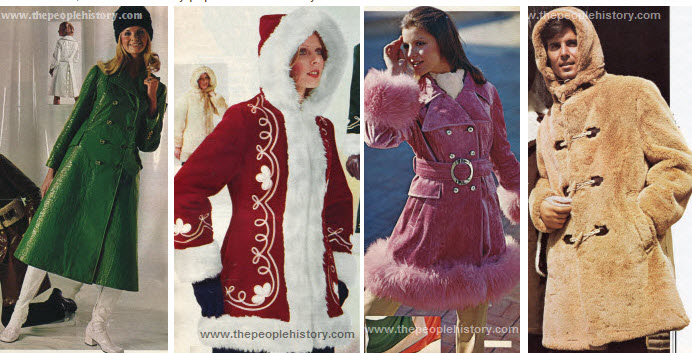 Unfortunately, many of the trends during the 1970s became some of the most unflattering and disliked fashion trends of all time. While often modern designers have drawn on looks from the past to create today's fashions, it would be somewhat surprising to see current designers draw on many of the most popular trends from the 70s. Brightly colored polyester coordinates and leisure suits remain the most embarrassing fashion moments for many of us. Not all clothing style was bad during the decade though, flared pants have remained popular at regular intervals and several other trends have seeped into modern fashions on occasion (fringe, tunics, and certain patterns).
More Seventies Fashion Pages --
Seventies Boots and Shoes
--
Seventies Dresses
--
Seventies Kids Clothes
--
Seventies Mens Fashions
1970's Clothing Price List
1970's Price List
Down Look Men's jacket $18.99 New York 1979
Ladies Lined Boots $42.90 New York 1979
Ladies Spring coat $24.99 California 1970
Ladies Summer Dresses $8.99 California 1970
Ladies Washable Oxford Sandals $1.22 California 1970
Men's Suit $37.95 California 1970
Puma Athletic Shoes $12.95 Illinois 1978
Slinky Shawls $5.99 Illinois 1978
Summer Ladies Coat $24.95 California 1970
Warm Leather Lined Boots $39.99 New York 1979
Women's Leather Jackets From $49.99 Illinois 1978
Women's Slippers $4.47 Ohio 1971
Wrangler Jeans $9.95 Illinois 1978
Men's shirt From $12.99 New Jersey 1976
Men's shoes dress From $21.80 New Jersey 1976
Men's sport jacket From $37.13 New Jersey 1976
Women's dress From $37.00 New Jersey 1976
Women's skirt From $34.00 New Jersey 1976