Fashion Through The Decades
20's Fashions
-
50's Fashions
-
60's Fashions
-
70's Fashions
-
80's Fashions
-
Over Seventy Years of Fashion History - How Fashions Have Changed Since the 1920s
It is amazing to see how the different events in history have influenced and changed the way people have dressed throughout time. Some of the most popular fashions are classic, they can stand the test of time and hardly ever "go out of style", only experiencing minor changes to keep up with the trends. Other clothing items could be considered "fads", styles that are only popular for a short season and then never worn again. Often certain fashion trends are dependent on the tastes of particular groups of people or cliques and are usually associated with social status or cultural preferences like the type of music a person likes. Fashion can also be influenced by world events such as war or the economy. For example, during World War II, people were only allowed a certain amount of fabric so they were forced to create simple outfits that were practical enough for wartime duties. From the 1920s to the 1990s, popular fashions reflected the mood of each decade and showcased changes in society as the styles of clothing and accessories evolved with the times.
---
---
Dresses and Skirts - From Mini to Maxi, Pleats to Pencil
Changes in skirts and dress fashion have changed and varied dramatically between the 1920s to the present, as well as within each decade. In 1920, only a few years after World War I, skirt and dress hemlines rose and waist lines lowered to the hip. These changes accompanied the boyish flapper fashions that marked the
1920's
as a decade of decadence and fun. During 1926 to 1928, hemlines were reported to be at their highest but once the stock market crashed in 1929 and the Great Depression set in, hem lines returned to a more conservative length (below the knee or lower). 1930s boasted a return to femininity and Hollywood glamour was idolized. Evening gowns showed bias-cuts and diamante accents and were made of chiffon or velvet. For a more casual look in the thirties dresses were slim-cut and had wide shoulders and a belt around the waist. Real fur accents and floral prints were also popular during this era until World War II broke out and the glamorous look of the decade lost its luster.
During World War II, luxurious fabrics like wool, silk and nylon were highly regulated and women's skirts and dresses were often made of viscose and rayon. Skirts and dresses would also be made out of anything that could be found within a home (like curtains, nightgowns or bed sheets) due to the illegality of using excess fabric when making an outfit from about 1942 to 1947. With the economic boom in the 1950s, glamour become fashionable once again and A-line and pencil skirts were very popular form-fitting fashions. Dresses in the decade would often feature stylish ruffles or lace accents and were usually knee-length or tea-length. Going into the late fifties and 1960s mini-dresses and maxi-length skirt outfits entered the scene. Mod styled dresses with short skirts and bold, colorful patterns became popular. Mary Quant, a Mod fashion designer is one of the people credited with creating the iconic mini-skirt of the mid-sixties. In the late sixties and seventies hippie fashion took over and loose-fitting, flowing maxi skirts and dresses became dominant. Disco music and dance also influenced dresses with slender lines, flowing skirts and the shimmering fabrics that would look best in a night club.
As we entered the
1980's
, fashion evolved once more. Skirts and dresses were once again longer and featured straight lines and more serious design. As more and more women joined the professional work force business suits became a trend for women with straight conservative skirts and broad shouldered, boxy blazers topped the look. In the eighties, fashion became highly influenced by music stars and movies with eclectic looks shown off by Madonna, Cyndi Lauper, and movie star Molly Ringwald. In the 1990s, skirts and dresses were not as prominent and more casual looks became acceptable with hip-hop and alternative music setting the scene for fashion early in the decade. Skirts and dresses were usually short and even provocative, especially in the latter part of the decade, however loose and flowing dresses as well as long denim skirts were also notable trends.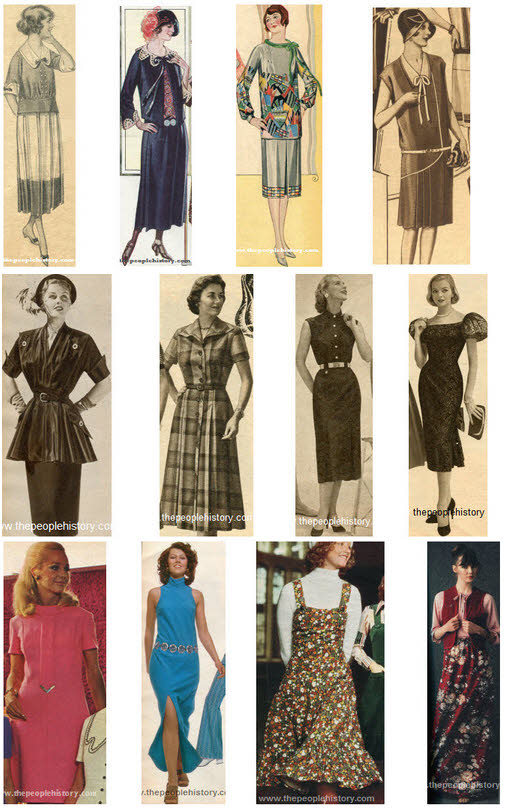 Blouses, Shirts and Tops
In the 1920s, the jumper blouse was introduced and became incredibly popular. Usually the jumper blouse was made of cotton or silk and had a sailor collar. Perfect for pairing with a skirt, it usually reached just below the hips and would be accompanied by a belt or sash. Another popular type of twenties blouse was a low-cut v-neck shirt with a chemisette attached to promote modesty. Knitted long-sleeve shirts with rounded collars and tank blouses were also popular in the decade. For men, polo shirts, dress shirts and sweaters were the tops of choice. Going into the thirties, feminine blouses that featured v-necks and long bow ties attached around the neck, sleeveless blouses and knit shirts of satin and linen were popular. During the war-torn forties nylon and silk were replaced with rayon and viscose for formal tops, while terry cloth, linen and even canvas were used for leisure shirts. Women who worked during World War II wore military style shirts that had button-up collars, and women who were a part of the American Woman's Auxiliary Corps would wear a full war military outfit.
After World War II ended, up until the mid-
1950's
trends in women's fashion changed again. Round-neck styles on sleeveless shirts or long sleeve shirts were popular, as well as polo-necks. Dolman sleeves dominated fashionable tops in the fifties and sixties, too. The 1960s brought ethnic print blouses, ribbed turtleneck sweaters and boat-neck tops into mainstream clothing. And, shirts for men and women often featured "wild" patterns. From the late sixties to the mid-seventies, brightly colored shirts and blouses with psychedelic patterns were trendy and hippie fashion made Indian cheesecloth shirts, peasant tops, tunics and Nehru jackets popular for both men and women of the era. Space-like and futuristic fashions also became popular and many tops were made out of suede, leather, vinyl and plastic.
In the 1980s, as styles became slightly more casual and T-Shirts and polo shirts became acceptable tops, and for formal or business-wear, boxy tops with shoulder pads, blazers, dress shirts and sweaters were popular for men and women in the decade. Over-sized tops were popular in the 80s and 90s as well. The 1990's saw a lot more commercialization of fashion with designer labels appearing on the outside of clothing as a way to promote status and trendiness. That trend continues today as it is not uncommon to see people wearing stylish casual shirts that host a bold Guess or Ralph Lauren logo on the front. The nineties also saw an increase in the popularity of crop tops and halter tops as women's styles became more provocative. In the late 80s, 90s, and in today's fashion, T-shirts have become more of a way to express individuality and a person's tastes and preference with sassy catch phrases, funny pictures, or pop culture references appearing more and more in the mainstream.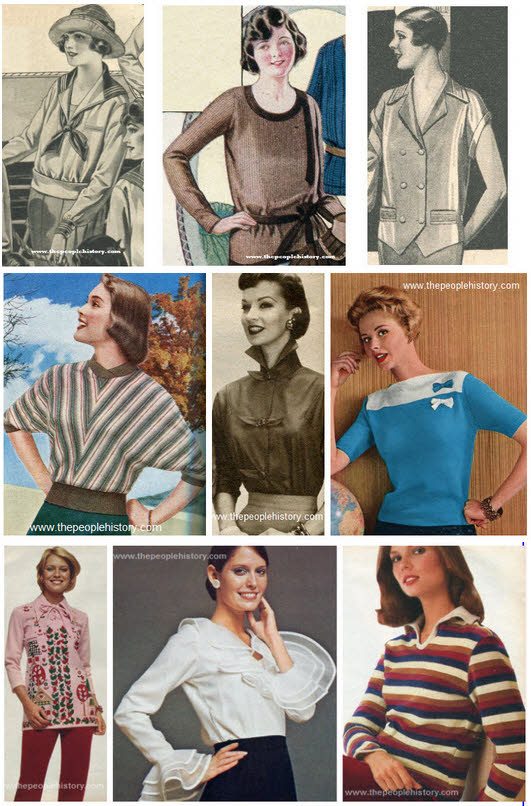 ---
---
Shoes
In the 1920s, women's shoes would often feature high and wide heels whether on a pump or loafer style shoe. Many women would even wear heeled shoes with their swimming costumes as a mark of femininity. Oxfords of varying styles and colors were popular too with men and women, as well as lace up boots. During the
1930's
strapped heels and pumps surged in popularity, while more traditional styles of heels were still worn. For men and women, laced leather leisure shoes were popular for outdoor activities and exercise during the decade. In the forties, as a result of the war, shoes became more conservative and practical. Women's shoes were usually made with flatter heels and had either cork or wooden soles.
Flat shoes, sandals, heels and pumps with rounded toes and feminine lines were worn by women in the 1950s. Saddle shoes, white lace up shoes with brown or black leather accents, were also popular for both men and women. Canvas basketball shoes (high-tops) or black leather oxfords were worn by men. Suede shoes also enjoyed moments of popularity during this decade. In the 1960s, black slip-on boots (most likely of leather or faux leather material) were popular for men and women, and heels became thinner on pumps. Vinyl boots, moccasin-style loafers with wide heels, wedge heels, and slip-on heels with leather cut-out patterns were all popular in the 1970s. Sandals and western style cowboy boots were also popular with both men and women.
In the 1980s, pumps were designed with higher and thinner heels than in decades before and they became more of a hit. For casual wear, tennis shoes (both high-tops and standard ankle high shoes) and leather dress shoes were very popular. Flats became popular too, especially with working women. By the
1990's
, styles had returned to Earth and the casual look was key. During this decade leather substitutes became more popular due to environmental concerns, and cork-soled sandals like Birkenstocks defined the alternative look early in the decade. Walking shoes had bulkier heels, and gym-type athletic shoes were most people's every day choice. As with the late 1980s and 1990s, branding became a driving force behind shoe sales. People would show off their Reebok, Nike or Adidas shoes with pride and special editions would sell for hundreds of dollars.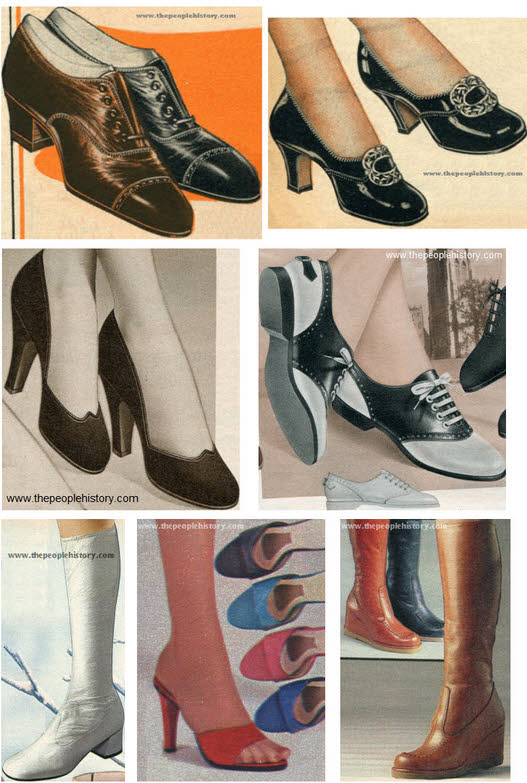 Accessories
From the 1920s to the 1990s, accessories have changed tremendously, but some items like jewelry have always remained popular. Fashionable hats were highly popular from the twenties to the fifties and were often an everyday item in a person's ensemble. For women in the 1920s helmet style, draped hats, cloches, turbans and pokes were all popular and usually featured a variety of fabrics, cut-outs, lace accents, feathers or other details. In the 30s, 40s, and 50s other styles of women's hats were popular as well with berets, homburgs, bumpers, bonnets, and wider brimmed hats all seeing time in the spotlight.
For men, bow ties and long ties have alternated their turns in the favor of fashion. From the twenties to the nineties the length, width, fabric, colors and patterns of neck ties have varied according to trends, but they have almost always been a necessity for men's business dress and formal wear. Men would wear fedoras, golf caps, automobile caps, Panama hats and other nearly timeless styles of hats up until the seventies, after which hats became less popular as casual styles started to dominate the scene. Baseball caps, skull caps, beanies and other types of casual hats remain popular with men and offer a way to display their favorite sports teams to the world.
Handbags and purses have also always been popular with women, but the styles have changed throughout the decades. In the twenties and thirties, handbags would often be used as vanity bags that featured a built-in mirror and could be used to touch up one's make-up and hair while out. In the fifties and sixties handbags became more of a fashion statement and would coordinate with the type of occasion one was attending, larger, more practical bags were used for shopping or a day out with family while smaller, fancier bags would be used for parties or fancy evenings out with friends. In the seventies, eighties, and even nineties, handbags and purses became more of a catch-all with women narrowing their collection down to just one or two, a more formal bag and an everyday work type bag. Presently, the type of handbags women own have become even more of a status symbol than in the past, with designer bags from Coach, Dooney & Bourke, Fendi, Prada, Michael Kors, Louis Vuitton, Kate Spade, and others costing thousands of dollars being the only purses women use, and often the only luxury piece of clothing many women own.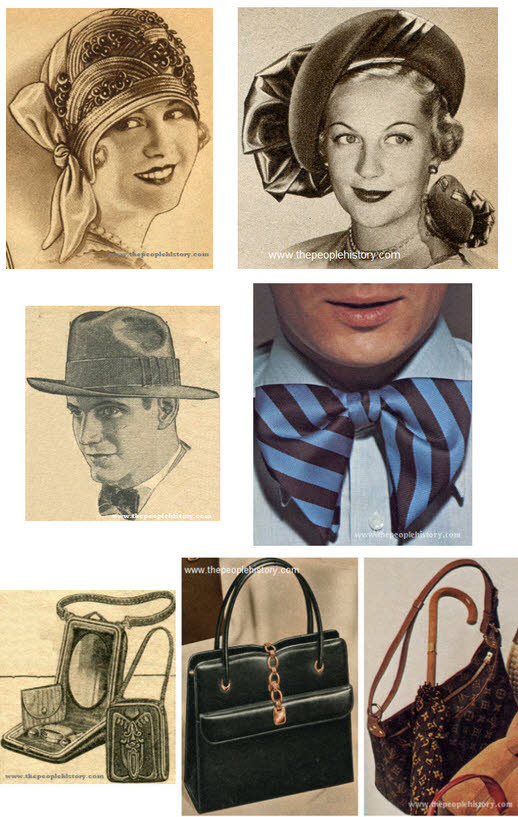 Hairstyles
Short boyish haircuts were popular throughout the 1920s to the late 1930s. In the
1940's
, hair was often still hid under hats, but usually was longer and tied in a bun or other up-do. During the Second World War, scarves and turbans were also popular. Hats and turbans (sometimes even worn together) remained popular until the 1960s. After this time women began to perm and/or dye their hair. Wigs were more popular after this time as well, and the wearing of hats declined dramatically. Men's hair (just like the short women's cuts) of the 1920s and 1930s was usually neatly combed and groomed, and usually parted to the side. Hair for men was "greased" back. In the 1950s hair was still greased back, but hairstyles usually consisted of more hair on the top of the head (especially biker styles). For women in the 1950s, hair was waved and fit to frame the face, or to be pulled back. Some actresses had wore their hair extremely short-way above the ears, as if it had been cut with a hair trimmer.
In the 1960s, beehive and flip-style hairdos were more popular for women. For the men, bowl cuts, such as the ones that are similar to what the Beatles wore are very popular as well. These looks continued on to the late 1960s. From the 1970s on, long, straight hair was popular for women, as well as for some men. Hairstyles were usually parted down the middle. Large puffy hair worn by Motown singers were considered stylish from 1969 on to the
1970's
, and short wavy hairstyles like Jodie Foster wore in 1976 were popular too. During the seventies layered haircuts were also popular and this trend continued into the 1980s. From the mid to late eighties big hairstyles that were teased and curly or wavy with bangs were very popular. In the early 1990s straight hair and long spiral perms became popular, while later in the decade angled bobs and shaggy, mid-length haircuts were made popular by celebrities like Jennifer Aniston and Courteney Cox on the TV show Friends.
From the 1970s to the current time punk hairstyles such as shaved heads, Mohawks, and painted hair were worn. These were usually the hairdos of those who wanted to make a statement, or just simply to be different from mainstream society. Many mainstream and independent artists had punk hairdos. Heavy metal hairstyles for men were quite popular, especially after the 1980s. Male heavy metal rock groups would tease and/or color their hair, which usually was let to grow long. There are still standards for hairstyles in the present. For the workplace hairdos are very conservative, usually in a straight style, or sometimes waved or slightly permed.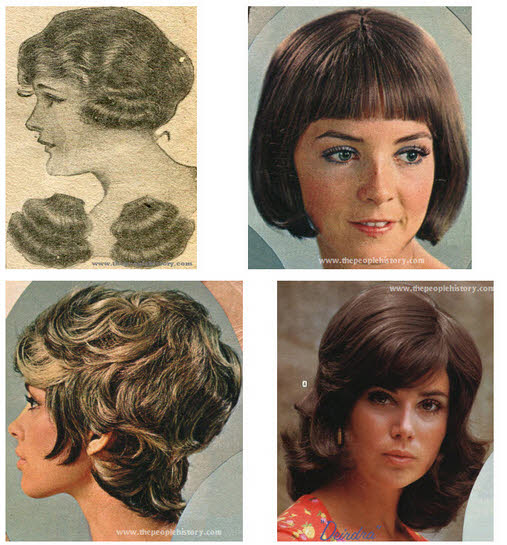 Designer Fashion
Names of designers that were alive during the 1920s and the 1950s include Jeanne Lanvin, "Coco" Chanel, and Pierre Cardin. Each these designers have set his or her personal mark. For instance, Lanvin is remembered for her intricate trimmings, lavish embroideries, and beaded decorations. These were all implemented in clear, light fabrics. Chanel is remembered for designing fashions of clothing as if it would be what she would wear. She also is known for masculine-cuts and silk blouses. Pierre Cardin is known for items such as his draped pale blue mohair dresses or jacket with fur-trimmed head. Designers from the 1960s include Yves Saint Laurent and Mary Quant. These designers were thought of as revolutionary style artists. They introduced items such as mini and/or maxi-length dresses, bright-colored sweater and mini-dress outfits, and a variety of new accessories such as laced tights as well as new cosmetics.
With globalization and the massive changes to society over the last eighty years, fashion has changed to cope with the differences. Designer ranges from small independent designers to large fashion houses that have existed for several decades. And, while trends still dictate the fashion world, modern designers have often drawn inspiration from the past and have modified classic looks from the past eighty years to be the height of fashion today. Designers for mass retailers seem to be less focused on creating ground-breaking images in fashion and more focused on adapting popular styles to fit all purposes and body shapes. As we have become more sedentary, our waistlines have expanded and clothing has adapted to that as well with more retailers offering larger sizes and more figure-flattering options.
Men's Fashion
After World War I and until about the year 1942 men's wear was fairly relaxed and less formal. For example, softer collars were worn during this time period. Sleeveless sport shirts became popular and were worn with white pleated trousers and a belt. Celebrities in the 1920s and 1930s would sometimes combine casual pieces with formal pieces for a new look. Evening wear such as the double-breasted white cotton pique was also worn during these decades, as well as day suits with wide lapels. These suits were worn with accessories such as wool tie, black trilby hat, or black gloves. Black leather shoes were also made popular during this time as well. Wide lapels on men's suits also were very popular in the 1930s with both British and American style suits. Materials used to make these suits were usually a type of wool.
Sportswear in between the mid-1930s and 1946 included items such as white straight-leg flannel trousers for tennis playing or dark blue elastic-wasted cotton knickers for playing football. A red cloth coat was sometimes worn with black leather boots for riding. These sportswear outfits were very much influenced by the British. After 1946, men wore items such as black trousers, single-breasted wool jackets, and suits with wide lapels and wide collars. Suit accessories included black bow-ties, black homburg hats, and black shoes. By 1947 the war rations on materials had ended, so more extravagant men's clothing could be made after this time. The 1950s British styles were in some ways different than in the 1930s and the 1940s. One of the signature items for men during the first year of this decade include the knee-length single breast overcoat (grey-colored) and cuffless sleeves (although cuffless sleeves were sometimes worn in earlier times). American styles of sports and leisure wear that were created in the 1950s included a single-breasted fitted brown jacket, narrow lapels, and flap pockets. These were worn during riding, and perhaps along with knee-high leather riding boots.
During the late sixties and into the late seventies, fashion was influenced by designers from numerous countries. For example, Pierre Cardin from France had created a new design of a two-piece grey cloth suit that had a double-breasted long fitted jacket. In the year 1970, the cloth jacket with a zipper was worn as a day wear outfit. This item was made with large hip-level flap pockets and tight sleeves which flared at the wrists and brown cloth trousers which were also flared. Leather outfits also became more popular after 1973. Leisure suits and disco-influenced styles were also popular with men in the seventies.
The 1980s was a time of its own unique fashion. Men during this time who worked as an executive or other position of higher authority usually wore items such as a brown two-pieced double-breasted suit with long narrow lapels. These suits were designed with broad shoulders and shoulder pads. Casual clothing that was significant of the 1980s included denim blue jeans, often worn with a matching jean jacket. Punk fashion in the 1980s for men included clothing items such as sleeveless black leather jacket, off-center zip fastening, or flap pockets. In the 1990s blue jeans were also very popular, but unlike the 1980s, bell-bottoms, wider-legged and baggy pants were in style. Black polo neck sweaters were popular in the year 1995, as well as two-piece wool striped suits with small collar and narrow ankle-length trousers.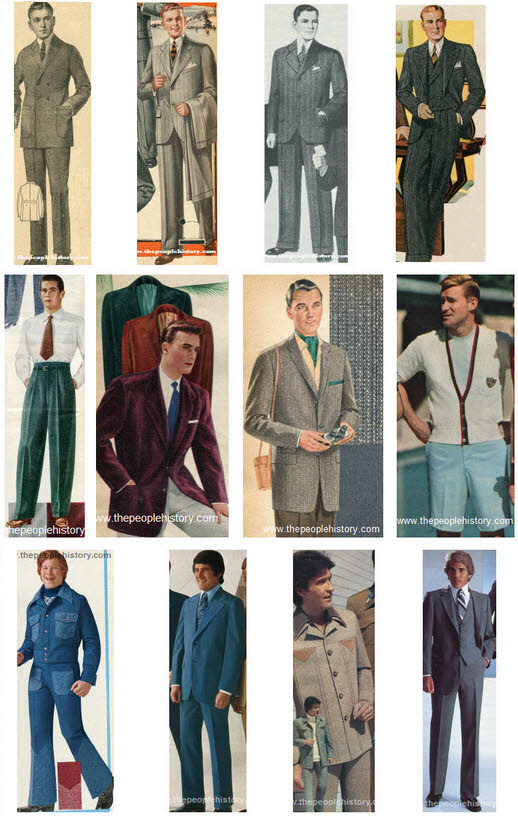 Children's Fashion
Toddler girls from 1919 wore laced-edged rompers which snapped on the sides. A bloomer dress with white collar was worn in the year 1925, and a fringed bunting with side fasteners was used to keep babies warm in the year 1939. Older girls wore schoolgirl outfits such as a black or green velveteen plaid skirt with white pique blouse and feather white socks and white shoed in the late thirties. A polka dot sun suit with elastic around edges of top and shorts was a big hit in the 1950s. This outfit was most likely worn as a swimsuit. Middle-aged boys in the 1920s wore items such as a gray or brown woolen suit jacket with matching vest and trousers. From this time throughout the 1930s different styles of knickers (knee pants) were worn by boys as well. Sometimes knickers were worn with knee-high print socks and shoes.
Older boys wore wool slacks and v-necked jacquard patterned sweaters in the 1950s. Also in the 1950s, boys wore navy denim jeans with a checked cotton button-down, collared shirt. In the 1960s, outfits for school and sports became more casual. One of the simple signature outfits of this decade was the black and white washable Welsh wool dress. In later years, these dresses were then made from man-made materials. Gingham skirts were displayed in an Issue of Vogue during this decade as well, which means these dresses were most likely worn quite a bit. In the year 1964 boys often wore a wool blazer and grey shorts. During this time, both boys and girls wore short white socks when they were young and knee-length socks when older. These socks were often held up by garter belts.
Toddlers in the 1960s were often seen in pinafore rompers. These were often worn over a blouse or jersey. From 1965 to 1970, outfits such as the machine-washable sleep suit were worn by babies, and this outfit was considered to be one of the most useful clothing items up to this time period. For the small boy during the late 1960s and early 1970s, a tweed coat with long trousers-similar to the 1950s boys outfits-is worn with a stiffened woolen hat. Girls during this time dressed much like the women of the time, in high-waist dresses and matching ribbed tights. In the 1970s, girls wore a variety of different kind of outfits similar to what women wore, such as Indian print shirts. They also wore print silky outfits of a matching shirt and flared pants.
The 1980s is the start of another evolution in children's clothing. Girls during this decade wore outfits such as the unisex poly-cotton brushed leisure suit. Small boys during this decade wore outfits such as a suit with a bright blue top that has red sleeves with logo on chest, along with pants to match. Other children's outfits worn during this time include girls' dresses in blue and white, with vest-shaped top and gathered short skirt. This was often worn with accessories such as heart-shaped sunglasses, canvas sandals, and hair tied up with bright stretchy bands. The nineties school and summer fashions were made for children to be able to move and play in. A signature boys' outfit of this time is the blue jeans overall outfit, and the girls' signature outfit is the jean dress with a white trim and pink shirt underneath. Clothes from the 1990s for children share a similar vein as to the ones in the present day. The most important aspect of making clothing for children today is to make sure the outfits are safe to wear and that they fit well.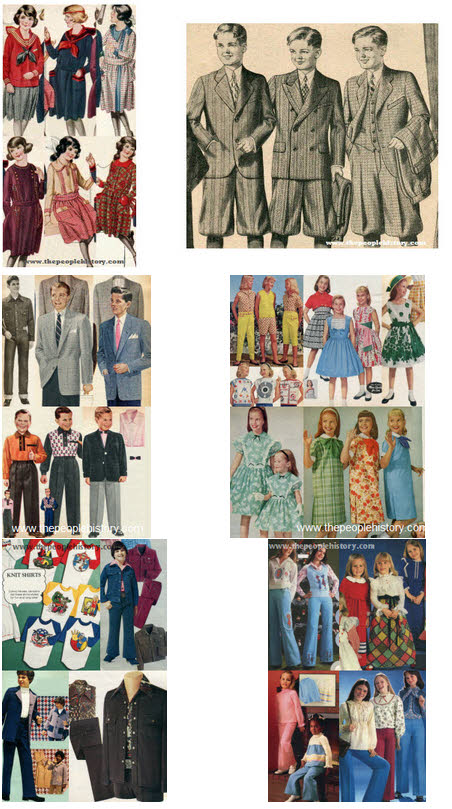 Teenage Fashion
From the 1920s to the 1940s teen dress was fairly conservative in contrast to present-day styles. For the most part teens dressed very much like the adults of this time. In the 1920s teens wore outfits such as the schoolgirl cadet style outfit which consisted of a gathered skirt with a hemline just below the knee. This skirt was usually accompanied by a V-necked bottom-down jersey knit cardigan, white collared shirt, and tie, all topped with a beret hat. Other teen girls and older children often wore cardigan sweaters, cotton frocks, and canvas shoes. Sometimes they wore sandals with their outfits. In the 1930s teens and/or young women would dress to imitate movie stars as much as possible.
In the 1940s, during World War II, natural materials for clothing were scarce. During this time, clothes were mended when worn and when new clothes were needed drapes, sheets, pillow cases, and other household materials were used to make new clothes. During the 1950s, new teen fashions began to develop, especially between 1955 and 1960. In fact, this was the period of time when teens began to purchase their own clothing, which was one of the reasons why they became such an influence on clothing that was made during this time. Teen girls in the mid to late 1950s wore clothing items such as an oversized sweater, buttoned cardigan, and a simple long tweed skirt. Around their necks they sometimes wore a string of beads along with it or a patterned fashionable scarf. Also in the fifties, groups of teen girls also sometimes wore baseball jackets and loose jeans rolled up.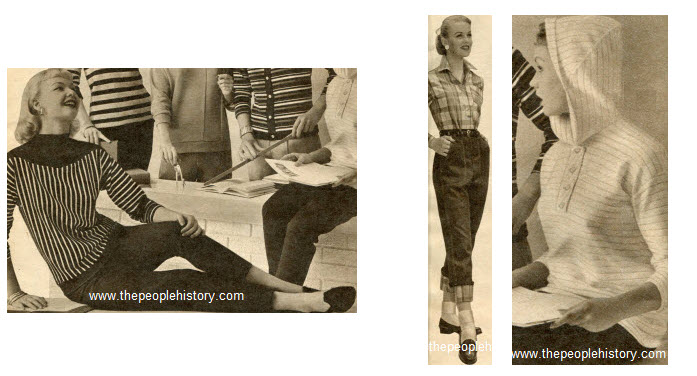 During the sixties, mini-skirts and mini-dresses became very popular. During the late 1960s long flowing "hippie" dresses were sometimes worn by teens or young women. These styles along with jeans and T-shirts and psychedelic clothing were also very popular with youth, especially those at least 18. This trend continued on throughout the 1970s, which also included the wearing of bell-bottoms. The 1970s was considered to be all about individual expression and clothing definitely reflected that. In the eighties, overalls, sweat suits, Spandex sportswear, cotton jersey dresses, and baseball shirts were often worn by teens. Additionally, parachute pants, jeans (straight-legged or narrow-cut), sneakers, and denim shirts or jackets.
Teen styles from the 1990s had many more variations than in decades before. As in the 1970s, trends from this time on became more about individual expression for teens rather than following a trend, and as a result, numerous sub-groups, often called "cliques" were formed. From the 1990s to the present day, one group of teens may wear the usual jeans and T-shirt outfit and other groups, such as punks, wear ripped jeans, spiked or colored hair, and body piercings. In the present day, teen clothing has also become quite risque, although fashion professionals frown upon certain trends. Overall, clothing is much more casual and relaxed for teens than in times past. Many teens are not required to wear school uniforms at all, unless attending a private school.