6 Dec, 1969

- U.S.A. -- Altamont Rolling Stones Concert
December 6th, 1969 : A free concert organized by the Rolling Stones featuring Santana, Jefferson Airplane, The Flying Burrito Brothers, and Crosby, Stills, Nash and Young and The Rolling Stones at the disused Altamont Speedway in Livermore, Calif., is marred by the deaths of four people, including a man who was stabbed by a Hell's Angel, The stage, which was only four feet high, was surrounded by the Hells Angels, who acted as security for the concert.
6 Dec, 1790

- United States -- US Capitol Moves From New York to Philadelphia
The United States Capitol moves from New York City to Philadelphia where it stays as the capitol until 1800 when the District of Columbia is completed and becomes the capitol.
6 Dec, 1900

- Great Britain -- Queens Speech
1900
: The Earl of Halsbury read the queen's speech in the House of Lords. In this special session the monarch appealed for funds to keep the British army going in South Africa and China. A sizable number of women were present and the meeting was brief.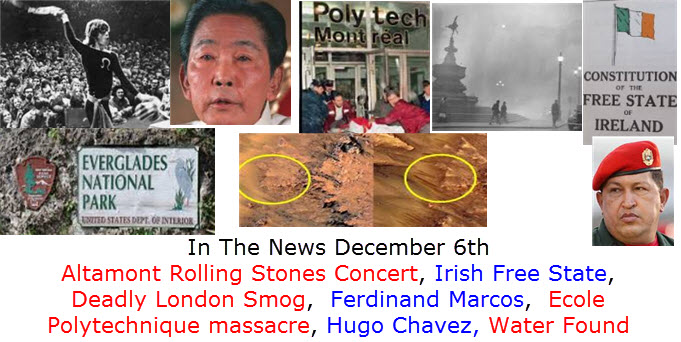 6 Dec, 1917

- Canada -- Munitions Ship Explodes In Halifax Harbor
A French munitions ship filled with highly explosive munitions--2,300 tons of picric acid, 200 tons of TNT, 35 tons of high-octane gasoline, and 10 tons of gun cotton, explodes 20 minutes after colliding with another vessel in Halifax Harbor killing more than 1,800 people and destroying more than 1,600 homes.
6 Dec, 1921

- France -- French Blue-Beard
A famous trial at Versailles pitted prosecutor Godefroy against a well known criminal Landru, referred to as the "French Blue-Beard". The prosecutor exclaimed, "The Landru who you have to judge is a savage beast tracked down in the midst of his career of crime. He is a murderer, a monster whose heart no human sentiment has ever touched." During the trial blue beard's face was impassive, although he knew he was headed for the guillotine.
6 Dec, 1922

- Irish Free State -- Created
1922
: The Irish Free State is created as a dominion with British sovereign authority under the terms of the Anglo Irish Treaty. Originally the agreement did cover Northern Ireland but Northern Ireland chose the option to opt out of the dominion.
6 Dec, 1938

- Lithuania -- German Control
December 6th,
1938
: The Lithuanian government was rearranged because of Nazi German insistence. Bronius K Balutis, who worked as an editor for a Chicago Lithuanian-American newspaper became deputy prime minister in order to maintain German control
6 Dec, 1941

- Tunisia -- Germans Move into Tunisia
The allies feared that German inroads in Tunisia would pave the way for Nazi control over Africa. President Petain of France let the Germans move into Tunisia, but he would not allow them to use the French navy against Britain.
6 Dec, 1947

- U.S.A. -- The Everglades National Park
Everglades National Park in Florida is the largest subtropical wilderness in the United States. It contains the southern 20% of the Everglades which was established as a National Park in 1934. The park is dedicated by President Harry S. Truman after 14 years on this date in history .
6 Dec, 1954

- U.S.A. -- Wonder Dog
1954
: A wonder dog named "Kid" was astounding the public with her uncanny genius. Owner H.S. Catchell claimed the canine understood more than 2,000 words and was still learning. Kid came from Omaha, Nebraska and her mother was a Labrador-Airedale cross. Apparently, the dog can point to light switches, identify certain stripes of neckties, and retrieve maps from a pile of papers. Kid's owner claims that mutts are smarter than purebreds when it comes to learning human language.
6 Dec, 1962

- England -- Deadly Smog
The thick layer of smog which has covered London causing the death of 90 people for the last three days is spreading across the country. Due to the high concentration of sulfur dioxide in the smog the Ministry of Health has advised those who are vulnerable to stay indoors or make "do-it-yourself masks" such as thick cotton gauze or a scarf around the mouth and nose.
6 Dec, 1966

- Hawaii -- Pearl Harbor
Captain James L. Holloway III master of the globe's largest nuclear warship thinks that a second attack on Pearl Harbor on the scale of December 7th, 1941 was unlikely. He remarked, "Since World War II, we have been at war more than we have not been at war… This is the most proficient and most competent military that I can imagine has ever existed in history."
6 Dec, 1975

- England -- Balcombe Street Hostages
Four armed men believed to be members of an IRA hit squad accused of shooting dead TV presenter Ross McWhirter on the run from police burst into a flat in in Balcombe Street, central London and take two hostages, The siege lasts six days and ends when the men surrendered themselves to detectives.
6 Dec, 1978

- Spain -- Free Elections
Spaniards cast a vote for democracy and are expected to endorse a new constitution in the referendum ending 40 years of dictatorial rule.
6 Dec, 1979

- Israel -- Iranian hostage crisis
Israel was hoping that the Iranian hostage crisis would propel Jimmy Carter's government towards a more pro-Israel mode. For quite some time Israel had accused the president of leaning towards a pro-Arab stance.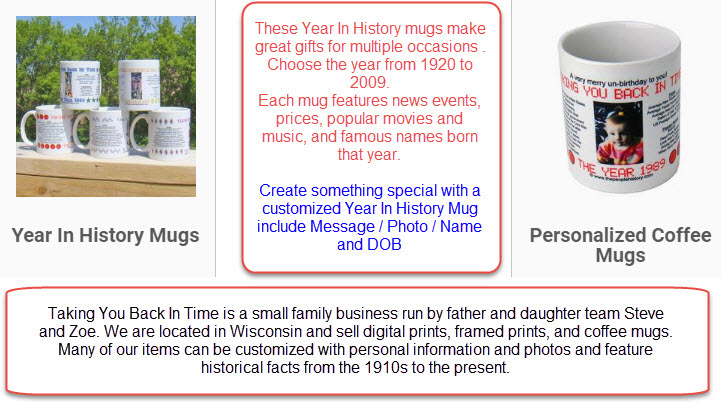 6 Dec, 1983

- Philippines -- Lean Christmas

Ferdinand Marcos told Filipinos to have a lean Christmas without luxury items. On the list of luxuries not to be purchased were apples, grapes, oranges, some kinds of fish, certain meats and other items. The Philippines was in the midst of a foreign exchange crisis.




6 Dec, 1989

- Canada -- Ecole Polytechnique massacre

A gunmen dressed in combat fatigues enters the Ecole Polytechnique a Montreal engineering school Cafeteria where he separates the male and female students and begins shooting the female students, he then went into other classrooms doing similar thing. By the end of his reign of terror he had killed murdered 14 women students and injured a further 12 before killing himself. The gunmen was 25 year-old Marc Lepine, armed with a legally obtained semi-automatic rifle.




6 Dec, 1990

- Iraq -- Defiant To US

Although sanctions and diplomacy were tried with Iraq its dictator, Saddam Hussein, remained defiant. Therefore, the Bush government threatened to forcibly throw Iraq out of Kuwait by January 15 if it did not leave peacefully.




6 Dec, 1992

- India -- Hindu Militants

A mob of Hindu militants tears down the Babri mosque in Ayodhya and attacked Muslim houses and property in the area setting off two months of Hindu-Muslim rioting that claimed at least 2,000 lives.




6 Dec, 1994

- U.S.A. -- Orange County

Orange County, Calif. an affluent California community filed for bankruptcy protection due to investment losses of about $2 billion on its multi-billion-dollar investment fund.




6 Dec, 1994

- England -- Oil Found Under Windsor Castle

Studies have shown there could be up to £1bn of oil lying beneath the Windsor Castle, in Berkshire, and the Queen has given the go ahead for oil drilling to take place in the grounds of Windsor Castle




6 Dec, 1998

- Venezuela -- Hugo Chavez

Hugo Chavez Frías the leader of the left-wing Fifth Republic Movement is elected President of Venezuela




6 Dec, 2002

- U.S.A. -- Winona Ryder

Winona Ryder is sentenced to community service for stealing more than $5,500 worth of merchandise from a Saks Fifth Avenue store in Beverly Hills.




6 Dec, 2004

- Saudi Arabia -- Al Qaida

Al Qaida struck the U.S. Consulate in Jiddah, Saudi Arabia, with explosives and machine guns, killing nine people




6 Dec, 2006

- Iraq -- Calls for Arab Nations Support

Tehran urged Arab nations to stand together and reject U.S. military bases on their soil. Iran's chief security officer warned, "The security and stability of the region needs to be attained and we should do it inside the region, not through bringing in foreign forces."




6 Dec, 2006

- Space -- NASA displays images of water sediment on Mars

NASA photographs reveal the deposits seen in two gullies on Mars that suggest that they have carried water through them over the past seven years. These are of liquid water, and not the water ice and water vapor that were already known to have existed on Mars. The photos have increased speculation of the potential for microbial life on the planet. 'These observations give the strongest evidence to date that water still flows occasionally on the surface of Mars,' said one of the Mars Exploration Program's scientists.




6 Dec, 2006

- U.S.A. -- Clint Eastwood's Letters from Iwo Jima wins best film at the National Board of Review awards

Clint Eastwood's Letters from Iwo Jima has won one of the first major prizes of the film award season. The movie received first place in the National Board of Review (NBR) best film category. Letters from Iwo Jima tells the story of the battle for control of the island during World War II, and is told from the perspective of the Japanese soldiers. "Letters from Iwo Jima is probably Mr. Eastwood's masterpiece and perhaps one of the greatest films of our time," said NBR president Annie Schulhof.




6 Dec, 2007

- U.S.A. -- The C.I.A. admit to destroying interrogation tapes

The Central Intelligence Agency has destroyed at least two of the videotapes that documenting the interrogation of two al-Qaeda operatives in the agency's custody. It took this step in the middle of Congressional and legal scrutiny about the agency's secret detention program. The videotapes were said to show agency operatives subjecting terror suspects to effective interrogation techniques in 2002.




6 Dec, 2007

- U.S.A. -- Mitt Romney

The Republican presidential hopeful Mitt Romney has sought to dispel public scepticism about his Mormon faith by promising to defend religious freedom. Speaking only twenty-eight days before the first nominating race, he says that he would serve 'no one religion, no one group, no one cause, and no one interest' if elected. But Mr. Romney also criticized those who called for the removal from public life of 'any acknowledgement of God.'




6 Dec, 2009

- Iran -- Restrictions made on Iranian Students' Day

Akbar Rafsanjani has been speaking a day before the annual Student Day, when demonstrations against the rule of Mahmoud Ahmadinejad, the Iranian president, are expected to go ahead. Hashemi Rafsanjani, a former Iranian president and opposition member, has accused the country's rulers of being intolerant, when restrictions on journalists are being imposed by the authorities. 'The situation in the country is such that constructive criticism is not accepted,' Rafsanjani told students in Mashhad. He called on Iran's political groups to work together to 'create a climate of freedom which will convince the majority of people and erase ambiguities.' Several websites have urged people to gather on Student Day near Tehran University campus.




6 Dec, 2009

- U.S.A. -- Bin Laden Whereabouts Not Known

The United States has no idea where Osama bin Laden may be hiding, and has not had the benefit of any substantial intelligence on his possible whereabouts for years, the Secretary of Defence has conceded. The morning's talk-shows have been defending and explaining Barack Obama's new surge-and-exit strategy for the Afghanistan war, and Mr. Gates said that bin Laden's capture would remain important to the military effort in the region. He was quick to admit there had been no recent progress. 'The U.S. would go and get bin Laden if it could gather reliable information on his location,' he said. Asked how long it had been since the U.S. had reliable intelligence on his whereabouts, Gates admitted: 'I think it's been years.'




6 Dec, 2011

- Belgium -- Belgium Swears In New Government After 541 Days

Belgium swears in a new government after a record-breaking 541 days without one. Elio Di Rupo became the Prime Minister and was sworn in by King Albert II. Di Rupo became Belgiums first Socialist prime minister since 1974 and the first French-speaking prime minister in thirty years.




6 Dec, 2012

- United States -- Tea Party Senator Resigns

Republican Tea Party Senator Jim DeMint from South Carolina announced that he would resign from his office in order to take a job leading a conservative think tank.




6 Dec, 2013

- Mexico -- Suspects Detained in Radioactive Truck Heist

Six men who had reportedly suffered symptoms of radiation poisoning were detained by authorities in Mexico only a few days after a truck carrying radioactive medical waste was hijacked outside of Mexico City. The truck had been carrying "Colbalt-60" and it was unlikely that the thieves knew what was in the truck, authorities reported that anyone who had come in close contact with the substance would likely face deadly symptoms of radiation poisoning.







Find By Month - - January - - February - - March - - April - - May - - June - - July - - August - - September - - October - - November - - December






This Week In History 49
Taken From Our This Day In History From
December 6th to December 12th
1901 Marconi sends first wireless transmission over 2000 miles across the Atlantic Ocean from Poldhu in Cornwall, England, to Newfoundland, Canada
1917 Father Edward Flanagan founds Boys Town
1917 Munitions Ship Explodes In Halifax Harbor Killing 1,800
1922 Irish Free State is created
1925 first Motel opens the Milestone Mo-Tel of San Luis Obispo, California
1931 Ford produces the last Ford Model A
1936 King Edward VIII Abdicates to marry American divorcee Wallis Warfield Simpson
1941 Japanese Attack Pearl Harbor
1941 US Enters World War II
1941 Germany and Italy Declare War On The United States
1941 China at war with Germany, Japan, and Italy
1946 UNICEF Established
1948 Universal Declaration on Human Rights By United Nations
1958 First US Commercial Jet Flight
1960 First episode of British Soap "Coronation Street"
1962 Deadly Smog Spreads In England
1963 Studebaker Production Ends
1969 Altamont Rolling Stones Concert Disaster
1975 Balcombe Street Siege London England
1980 Former Beatle John Lennon was shot dead in New York
1985 The Unabomber kills his first victim, Hugh Scrutton
1988 Clapham Junction Rail Crash South London
1989 École Polytechnique massacre Montreal
1990 Solidarity founder Lech Walesa wins Poland's presidential runoff
1990 Ivana Trump filed for divorce from real estate mogul Donald Trump
1992 Prince Charles and Princess Diana announce a formal separation
1993 Hubble Telescope Repair is a success
1993 Long Island Rail Road commuter train shootings
1993 The North American Free Trade Agreement (NAFTA) Signed into Law
1997 150 countries agreed at a global warming conference in Kyoto, Japan ( Kyoto Protocol )
2002 Iraq assures the United Nations it does now have weapons of mass destruction
2003 Keiko From Free Willy dies
2005 Buncefield Oil Depot Explosions Hemel Hempstead in England
2006 NASA displays images of water sediment on Mars
2008 Illinois Governor Rod Blagojevich Arrested
2008 Car Companies Bail Out Bill Agreed
2009 Obama receives Nobel Peace Prize