List of January 8th Major News Events
1940 Great Britain Food Rationing
1945 Berlin Handover by Soviet's
1918 World War I Allies Counter Attack
1815 Battle Of New Orleans
1964 President Lyndon Johnson - War on Poverty
2009 World Effects Of Recession
Find More Details for What happened 8th January This Day in History on your birthday
1940 Great Britain Food Rationing
1940 : Great Britain introduces Food Rationing using ration books containing coupons for bacon, butter and sugar. Shortly after tea, jam, biscuits, breakfast cereals, cheese, eggs, milk and canned fruit rationing were introduced. Later as the war continued many more items of both food and non food items were introduced including Meat, Petrol, Clothes, Tea and even soap were rationed.
1945 Berlin Handover by Soviet's
Soviet Armies had handed over power to the U.S. and British Armies on this date. This event took place in what was known as West Berlin-many years before the walls were torn down between East and West Germany.
1918 World War I Allies Counter Attack
French, British, and Italian forces were reported on this day to be in the process of preparing a counter attack along the Piave River in Italy during World War I. This battle was to be delayed for some time, however.
The Germans attempted once again to gain control over the Western Front of the Piave River in March of this same year (1918). This was considered one of the German Army's last effort to win the war. After the end of the Battle of Piave in 1918, the Austrian and Hungarian armies that fought along with the Germans direction had disintegrated. This battle that took place along the Piave River was the beginning of the end of World War I.
By the way, allied forces of France, Russia, the United Kingdom, Italy, and the United States all helped defeat the Central Powers. The Central Powers included the Germans, along with the armies of Austria, Hungary, the Ottoman Empire, (Turkey) and, Bulgaria . The United States did not actually participate in World War I until the year 1917. This was the same year that Russia had withdrawn after signing the Treaty of Brest-Litovsk with the Central Powers (German, Austrian-Hungarian, Belgium, Ottoman, and Bulgarian Armies).
---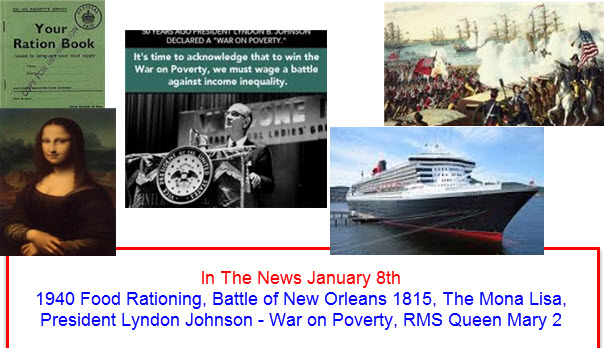 1815 Battle Of New Orleans
1815: Major General Andrew Jackson, defeats the invading British Army intent on seizing New Orleans and the vast territory the United States had acquired with the Louisiana Purchase.
1918 Post-War Peace Plan
Washington 14-Point Plan for Post-War Peace Presented by U.S. President Woodrow Wilson This talk consisted of a plan which included 14 different aspects of peace keeping.
One of those on this list is that which pertains to equality of trade for peace-keeping countries (and maintenance help thereof). Other portions of agenda on this list included "Impartial adjustment of all colonial claims", "Evacuation of Russian territory" (and Belgium and French territories), and "Readjustment of Italy's frontiers".
This plan, of course was in the development phase at this time. Further effort was to be made in order to carry this plan out.
1920 Canada - Newsprint Export Prohibited
The exportation of newsprint paper was prohibited as of this date. This embargo applied to any paper mill that refused to obey orders made by R.A. Pringle. The amount allotted to Canadian publishers was to be supplied before any further export would be allowed.
1935 Elvis Presley
Elvis Presley, the man who received the title "The King of Rock N' Roll" while he was still alive, was born on this day.
1939 Thomas Mooney
It was reported in a paper on this date of Thomas Mooney's release from prison on the day before (January 7). This release was granted by Governor Olson of California. Thomas Mooney was originally convicted of a bombing incident that took place in California in the year 1915. However, he had fought for his freedom for over 22 years because he did not even commit the crime. Finally Mooney's day had come, and he was able to go home to his friends and family. The governor who supported his release had collapsed, presumably because of all the excitement of being able to let an innocent man go free. It was reported that when Mooney's wife had seen him that her eyes were red with weeping.
Personalized Birthday Year In History Prints
Year In History Prints are available in years 1920 to 2018
Our Personalized Prints are great gifts or party favors for special birthdays
Choose a year and style and customize with a message at the top, photos in the center, and more! Once we receive your order we create your personalized print using the information that you include with your order.
$5.25 Delivered via E-Mail within 48 Hours
Born This Day In History January 8th
Celebrating Birthdays Today
Elvis Presley
Born: 8th January 1935 Tupelo, Mississippi, United States
Died: August 16 1977 Memphis, Tennessee, United States
Known For : Elvis Presley THE KING OF ROCK AND ROLL, there are only a few music legends who are remembered and honored long after their death and Elvis is one of the select few if not the greatest. During his career he set new records for concert attendance, television ratings and recordings sales and is one of the best-selling solo artists in the history of popular music, with sales estimated up to 1 billion records. He is considered by many to be one most important figures of twentieth century popular culture. Unlike many stars past and present he entered his military service and was keen to be seen as an able, ordinary soldier, despite his fame did not enter the "Special Services" division which would have allowed him to avoid certain duties and maintain his public profile. He died at his beloved Graceland in Memphis, Tennessee.
David Bowie
Born: David Robert Jones 8th January 1947 Brixton, London, England
Died: January 10, 2016, New York, NY
Known For : David Bowie best known as a singer from the late 60's and the 70's through to the Eighties, gaining success first with Space Oddity and later at Ziggy Stardust his last major success around the world was "Dancing in the Street" with Mick Jagger another hit that was great to hear once again. Below is Space Oddity which this webmaster can remember buying the 45 single and playing it non-stop until the scratches made it impossible to listen to. PS I also remember buying his earlier single "The Laughing Gnome"which was not as popular but I loved it ( Check it out on YouTube ) bought back memories for me.