1920s Popular Vintage Children's Toys with Prices, Descriptions and Images
Unlike later decades, the choice of toys parents could buy for children was limited, so all popular 20s toys have been included on this page. It is fascinating looking at the cars which emulate the car models of the time and how most were wooden or steel as plastic did not exist. We have over close to 30 examples below with prices, descriptions and pictures covering the period from the early to the late Twenties, the range although limited is fascinating .
Featured on this page Tom Tinker Toy, Bird Whistlers, All Steel Pedal Cars, Clock Work Train Set, 3 Wheel Velocipedes, Erector Set, Flossy Flirt Doll, Cast Iron Toy Cars, Gyroscope Spinning Top, Magic Lantern, Marbles and many more from the 1920s
---
---
Vintage 1920's Play Ideas From The Roaring Twenties
Detailed Description with more information can be found below each image, we combined multiple toys into each image to make page loading quicker and easier to use on mobile devices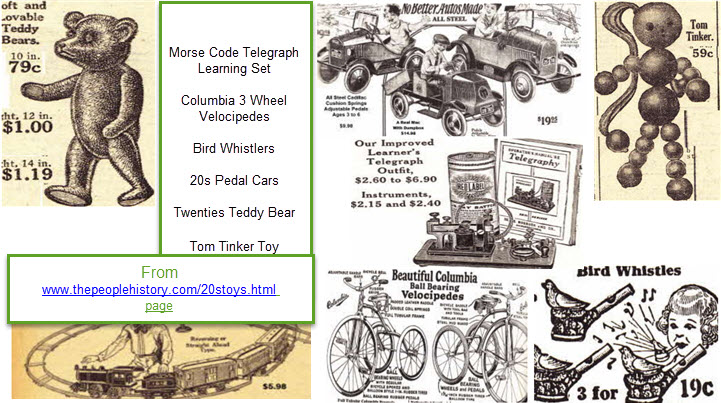 Vintage Twenties Teddy Bear
Price: From 79 cents
Description This Teddy Bear is from an advert from 1920. Named after the United States President Theodore Roosevelt (whose nickname was "Teddy") following a cartoon where he refused to kill a tied up beaten black bear (1902). The following year, Morris Michtom (Ideal Novelty and Toy Co) wrote to the president asking for permission to market a (Teddy Bear) and was given permission, the rest as they say is history. However, there are disputes over the first "Teddy Bear" as it is believed that the Steiff firm in Germany, unaware of Michtom's bear, produced a stuffed bear from Richard Steiff's designs at around the same time.
Vintage 20s Tom Tinker Toy
Price: 59 cents
Description Made from smooth wooden balls threaded on strong chords.
Bird Whistlers
Price: 3 for 19 cents
Description Fill your Bird with water Whistler and they make a sound like a canary.
20s Pedal Cars
Price: From $10.95
Description This offers an idea of the style of cars and trucks around at the time (I love these), they are all based loosely on cars and trucks from popular major car makers Cadillac, Lincoln and MAC truck. The more expensive, the better chain drive gearing used. I can only wonder what these would cost today as antiques if you could find a one in good condition.
Clock Work Train Set
Price: $5.95
Description Clock Work Train with 15 ft of track. The train itself was was 7 inches long and the carriages were 5 inches long, the train set was made by Bing Trains who also made an electric train set which ran through dry cell batteries or AC through transformer (cost of electric set and transformer was close to $20.00).
Columbia 3 Wheel Velocipedes
Price: From $8.98
Description Columbia 3 Wheel Velocipedes ( Tricycle ), features include bicycle bell, adjustable handle bars, padded leather saddle with coil springs, tubular steel frame, ball bearing wheels and bicycle spokes.
Through to the late 50s the word Velocipede / Bicycle or Bike were used to describe human-powered vehicles with one or more wheels it very much depended on who the manufacturer was, towards the late 1950's Tricycle and Bike / Bicycle were used much more in advertising and now it would be hard to find an add for a Velocipede.
Morse Code Telegraph Learning Set
Price: From $2.90
Description Morse Code Telegraph learning kit included everything to learn how to use Morse code and use the Telegraph.
Radio and the Telegraph were changing communications and this was sold as a toy but was also bought by adults to learn the new technology
Toys History From 1920's to 1990's
More 1920's Examples
Detailed Description with more information can be found below each image, we combined multiple into each image to make page loading quicker and easier to use on mobile devices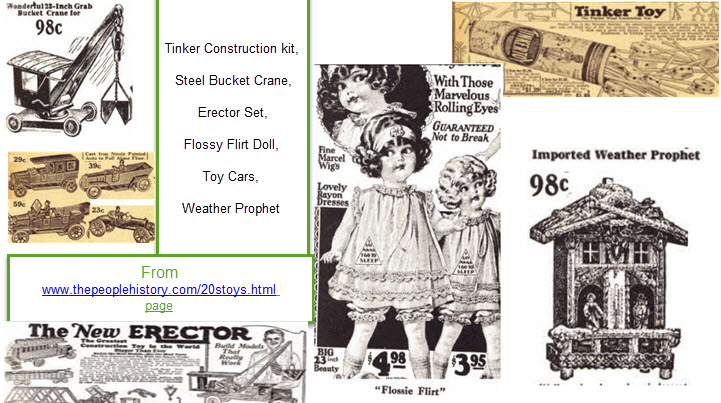 Tinker Construction kit
Price: From 63 cents to $1.75
Description Unlike the Erector construction kit which was based on thin steel and nuts and bolts, the Tinker Construction kit was based on wooden sticks and spools to build things, seems a shame they are not around today.
Nearly 1/5 of all sold were construction kits of one kind or another making them as much for education as for play
Steel Bucket Crane
Price: 98 cents
Description Steel Toy Bucket Crane.
Erector Set
Price: From 98 cents to $9.98
Description I was pleased to see this Erector Set from the early 20s, very few toys or manufacturers are around since that time, this is one of the few and tells you that child development and kids making things with their hands was as strong and important then as it is today. ( The vast difference in price between the steel sets and the wooden based sets offers an insight into the range of things each set could make because the steel was more versatile and longer lasting )
Flossy Flirt Doll
Price: From $1.98 to $4.98
Description Flossy Flirt Doll animated doll, says the words Ma Ma, rolling flirty eyes and she closes her eyes when she goes to sleep, sizes range from 14 inch high to 23 inches high.
Toy Cars
Price: From 39 cents
Description Cast Iron Cars for little boys to play with, provides hours of fun.
Weather Prophet
Price: 98 cents
Description Weather Prophet, I love this the description tells us that when the woman comes out the weather will be fine the next day and when the man comes out it will be bad weather, unsure how it worked as no barometer was mentioned with it's description.
More Twenties Examples
Detailed Description with more information can be found below each image, we combined multiple into each image to make page loading quicker and easier to use on mobile devices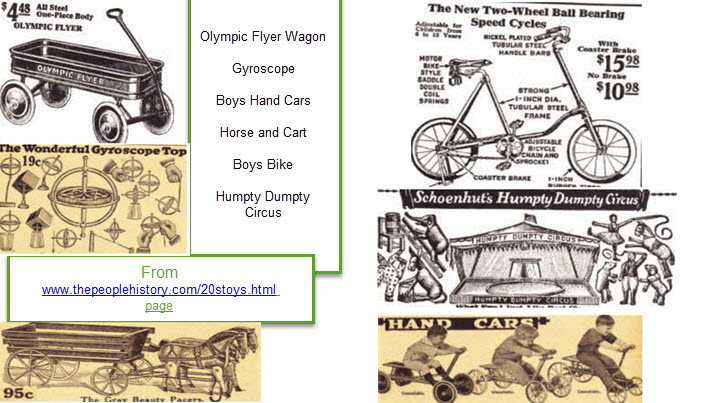 Olympic Flyer Wagon
Price: $4.98
Description The Olympic Flyer Wagon, an all steel pull along Wagon, with red enamel, 33 inches long and 14 inches wide with pull along handle.
If you watch any movie from the twenties, thirties or Forties that includes children playing some make of pull along wagon will be featured
Gyroscope
Price: 19 cents
Description The Gyroscope Spinning Top a wonder of modern science, will spin while at any angle, I just checked and they are still sold on Amazon with little change from the original design.
Boys Hand Cars
Price: From $3.99
Description I looked at these first and tried to work out if they were push along, but when reading the description the children push and pull the handle with their hands which is connected to the rear axle to make them go along, and they use their feet to do the steering. Looks like a great fitness idea for our kids today.
Horse and Cart
Price: 89 cents
Description Horse and Cart, horse has moving legs just like a real horse, 18 inches X 6 inches
Boys Bike
Price: $15.98
Description What I found the most interesting was the strange design, with the small wheels and $5.00 more to include a rear wheel coaster brake suitable for ages 6 to 12 (hmm 12 year old boy speeding down a hill and no brakes unless you spent the extra $5.00).
Humpty Dumpty Circus
Price: $7.96
Description What a great gift, the circus includes Canvas Tent and Sawdust Ring, Circus Girl and Ringmaster, Brown Bear, Clown, Donkey, Elephant, Poodle, Dog, and Horse.
1930's 30 Toys Examples
You can find many more examples on our 1930's Toys Page
Vintage 1920s Play Examples sold during The Twenties
Detailed Description with more information can be found below each image, we combined multiple into each image to make page loading quicker and easier to use on mobile devices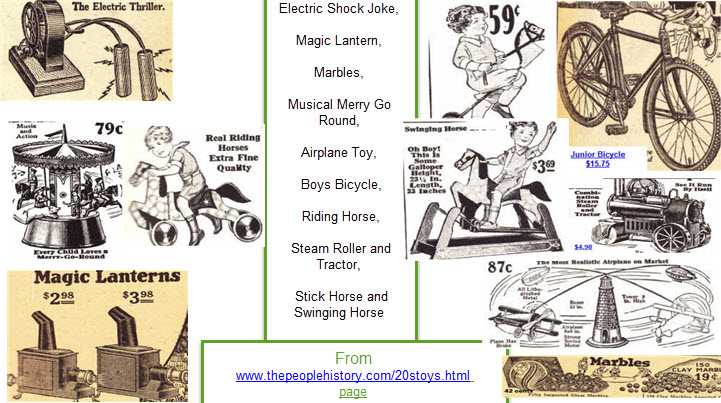 Electric Shock Joke
Price: $1.98
Description Practical joke fun with a popular toy that dates back to the 20's, turn the handle and get your friends to pick up the two rods and get electric shock.
Magic Lantern
Price: $3.98
Description Magic Lantern includes 12 glass slides, Kerosene lamp, lamp chimney for the smoke, display your picture on a white sheet or wall. A short time ago, I was looking to buy one of these and the only ones I could find were from the early 30s and were electric instead of kerosene and were pretty expensive even though they were quite popular from the late 1800's through to the 30s, the glass slides were even harder to come by.
Marbles
Price: From 19 cents
Description As you can see the clay marbles at 150 for 19 cents were significantly cheaper than the imported glass marbles costing nearly 10 times as much for each marble.
Musical Merry Go Round
Price: 79 cents
Description Wind up Musical Merry Go Round with horses and pigs carrying their riders while the music plays.
Airplane Toy
Price: 87 cents
Description Wind up Airplane includes a Plane and an Air Ship.
Boys Bicycle
Price: $15.75
Description Boys Bicycle with 14 1/2 inch steel frame, Triple Coil Saddle Springs, and Red enamel.
Riding Horse
Price: $2.98
Description Horses head and front wheels swivel for easy turning.
Steam Roller and Tractor
Price: $4.98
Description Steam Roller and Tractor moves under its own steam.
Stick Horse
Price: 59 cents
Description Little Girls Stick Horse from the 1920s, not much to say except little girls still love them today nearly 100 years later and will still use the same words giddy up.
Swinging Horse
Price: $3.69
Description Once again a toy that has stood the test of time, safer and made from different materials but basically the same.